"A goal without a plan is just a wish." – Antoine de Saint-Exupéry.
Just knowing what product you want without knowing where and how to search for it is like a goal without a plan.
The first step in finding a specific product model that meets your needs starts from knowing what product you want to purchase. The outcome is to eventually buy the right product from the right seller at a best deal possible.
We need not be too hard on yourself if the purchase didn't work out as expected. In life you win some, you lose some.
There are many online sellers with different intentions, agenda and motives. Knowing how to identify these sellers will help you keep fraud and unscrupulous sellers at bay. You only want to purchase from an authentic seller to avoid a headache from a fraud seller.
How to Choose the Right Online Shopping Platform?
Before you start shopping online for your product, begin by associating your product with a shop category shown below. In this manner, you can easily select the online shop or platform to search for your product.
Shopee and Lazada are two of my favorite online stores. Both are rated the most visited e-commerce websites according to the research by Statista.
For your convenience, I've organized the online stores or platforms into the following categories.
How to Search for Your Product?
Finding the right product at the right price from the right seller is a process. Here are the steps how I do it.
Pick a product name
STEP 1
If you are unsure of the common name used by the online sellers for your product, pick a generic name that best describes it. This is different from a specific product name given by the seller for each of the product. In this article, I'll refer to product model as the specific product name.
Example
I will use a generic product name called "laptop fan" to help me with my initial product search. Eventually, it'll lead me to a specific product name or product model called "Cool Cold Ice Troll 2 15-17 Inch Gaming Laptop Cooling Stand Powerful Pad with 4 Fan".
Identify shop classification
STEP 2
Pick a shop category from above that identify with your product.
Example
The laptop fan I am searching for is a computer accessory. So, I should be looking at the Superstore category.
Do a quick browse
STEP 3
If there are several online shops or platforms in the shop category, I'll search for the product name across the different online shops.
At this stage, I am only interested to browse through the filtered product listings to have an idea what are the available product models. At the same time, I'll take note which online shop or platform may have the most relevant product models.
Example
I'll do a product search in Shopee, Lazada and Ezbuy.
Search for the product
STEP 4
In order for me to eventually decide which product model to buy, I'll choose an online shop which may have the most relevant product models to conduct the search. I'll use the generic product name I've picked in STEP 1 to do the search.
Example
I'll select Shopee to search for "laptop fan". It'll filter all applicable product lists as shown below.
Spot the product listings
STEP 5
Once I have a filtered product listings, I'll spot the product image that meets my requirements.
Example: From the filtered product listings I'll take note of those product image  which is a laptop stand  with embedded fans.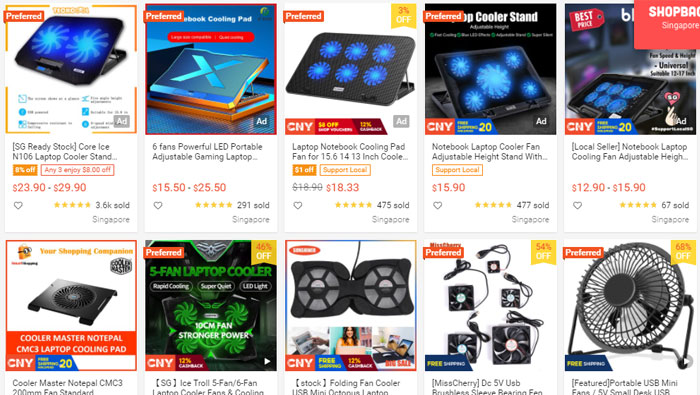 STEP 6
If the filtered list doesn't contain the products I want, I'll change my search phase.
Example
I'll can change my search phrase to "laptop cooling fan" and perform a search on Shopee.sg again.
Examine critical information
STEP 7
From the spotted product listings, I'll only click on it if the price is within my budget.
One thing to note about pricing is to be suspicious toward sellers offering a price gap too wide apart from other sellers of the same product model.
When I was shopping online for a specified model of washing machine, I found a seller offering the cheapest price. The price was about $70 cheaper than the other online sellers. It turned out to be a possible case of trickery. I perceived the seller was using tactics to trick buyers into committing then offering a cheaper model without the buyer knowing the price.
STEP 8
When I'm at the product listing page, I'll take note of the total average score for the product ratings. The higher the better. Example, between 4.8 and 5 being the highest.
STEP 9
Next, I'll examine the stars rating score and the reviews written by buyers. I usually start from 1 star and working upwards to 5 stars rating.
This is a critical process that will influence your product shortlisting decision. So, spend the time to examine the reviews.
Approach with caution coupled with your discretion to snoop out honest feedback from buyers. It'll give you valuable information in your decision making.
For 1 to 3 stars ratings, look for common problems or issues mentioned by the buyers. For 4 to 5 stars ratings, look for common appraisal by the buyers.
If the 1 star rating score is more than 10, there is a potential of a red flag. You should approach with caution. I have seen a score of over a hundred. The buyers' feedback were generally the same about the seller as dishonest and offers bad delivery service.
Don't forget to check the 5 stars too.
Do not let this step be overruled by a high score of items sold. A high number of items sold doesn't automatically qualifies the product to be good.
Eample
If you examine the product below, it has sold more than 3,600 pieces. However, the product ratings for 1 star has a score of 15. Morever, the average product rating score is 4.7 out of 5. Further examination on the reviews from the buyers suggest that you should stay clear of this product.


STEP 10
If there is no product ratings or a very low score for the stars rating and reviews, I'll examine the following:
Product description – this will give me an idea about the quality and capability of the product. It can also reveal the attitude of the seller.
Seller's e-store – if the seller has an e-store on the platform, pick some products from there and perform Step 9 described above.
Example
Let's have a look at the product below.
Although 3 pieces were sold but no buyer has rated and leave any review.
However, the seller has a store on the online shopping platform.
Deciding on the product model
STEP 11
At this stage, I can begin to select a specific product model. I'll select the product model that meets my budget and requirements but it is still not the time to purchase the product yet.
Example
After going through the above steps to search for my laptop fan, one specific product model caught my attention. I managed to decide on the "Cool Cold Ice Troll 2 15-17 Inch Gaming Laptop Cooling Stand Powerful Pad with 4 Fan".
STEP 12
Once I have the name of the product model or the specific product name, I'll perform a search on the online shop. But, this time using the product model name to do the search.
Example
I'll use the product model "Cool Cold Ice Troll 2 15-17 Inch Gaming Laptop Cooling Stand Powerful Pad with 4 Fan" to do the search on Shopee again.
Perform price comparison
STEP 13
My filtered list will now show product listings of the same product model from different sellers. From here, I'll start comparing the prices.
When comparing the pricing, remember to add the shipping fee when applicable. In this manner, I can find out the cheapest price by doing an apple-to-apple comparison of the same product model among the different sellers.
Looking for best deal
STEP 14
To get the best deal, I'll repeat steps 12 to 13 on another online shop in the same shop category.
Example
I'll search for the product model in Lazada and Ezbuy after my first search on Shopee. Both Lazada and Ezbuy are in same Superstore category as Shopee.
Lazada
STEP 15
Another great way to get more savings is to look for discount coupons or vouchers. Head over to "How to Shop Wisely Online?" to find out where to get your additional discount.
Example
I used the discount code found on Cuponation when I purchase my Lenovo budget laptop. It was a bonus to have extra discount in addition to the standard discount by Lenovo.
Make the purchase
STEP 16
Once you have decided to purchase the product proceed with the purchase. Don't forget to apply the discount code.
Conclusions
Knowing what to buy but don't know where and how to begin is a goal without a plan but is just a wish.
How to successfully shop for your product online encompasses 5 basic processes:
Derive a generic product name
Search by product name
Decide on a product model
Find the best deal
Made the purchase
Use the generic product name to search in an online shop to find a specific product name or product model that meets your requirements.
You will find different sellers selling the same product model on the same shopping platform. You can also expect a seller selling the same product on various online shopping platforms.
Knowing what kind of seller you are dealing with will ensure you buy your product from a reliable seller.
Do not let the high score in items sold overshadow the process to examine the product ratings, star ratings, and reviews from buyers. Never underestimate this examination process.
After you have searched out the product model you intend to purchase, do a price comparison between the sellers on the different online shops or platforms to get the best deal.
Remember to include the shipping fee when doing price comparison. In this manner, you can determine which seller truly offers the cheapest price.
Don't let your purchase decision simply be governed by the cheapest price. Sometimes the cheapest price may be a sign of fraud. This is usually true when the price gap is too far from the rest.
If you want to save more and are willing to buy pre-owned items, try Carousell.
Plan your online shopping wisely for best deals and an enjoyable experience from the comfort of your home.
Let me know what you think. If you find this blog post helpful, please share it with other parents or give a Like!